Fight Previews
UFC 231: What Does Brian Ortega Need to Do to Dethrone Max Holloway?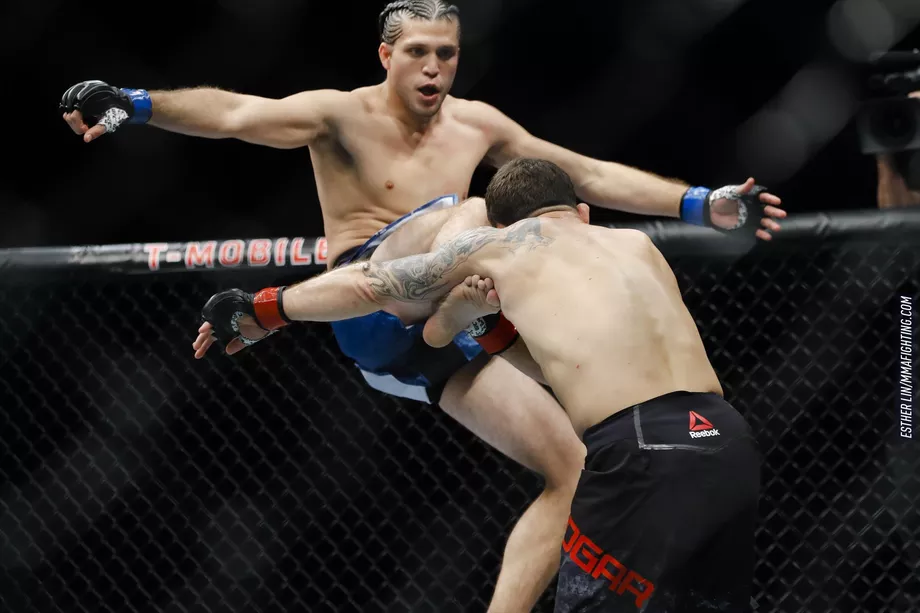 The highly anticipated featherweight bout between Max Holloway (19-3) and Brian Ortega (14-0) is now official for UFC 231 at the Scotiabank Arena in Toronto, Canada.
Both men have made weighed in on the mark. Holloway, the current UFC featherweight champion, tipped the scales at 144.5 pounds and his challenger, Ortega, at 144.75 pounds.
Representing the present and future of the UFC featherweight division, the champion and challenger look to continue their win streaks. Holloway is currently riding 12-straight wins while Ortega is going on six consecutive—all of which by stoppage.
Calculated Brawler vs. Jiu Jitsu Practitioner
Though both men have showed that they are capable of just about anything in the cage, this will be a classic "striker vs. grappler" bout.
Richard Mann of ESPN made note of the vast margins between their striking differentials. Holloway's +230 differential is among the best in the class, coming in at No. 2 at featherweight. "The champion lands the most significant strikes per minute among the same group, 6.20," per ESPN. Holloway's striking and movement on his feet is unpredictable and extremely hard to adapt to.
Along with this, the 27-year-old Holloway does a great job of keeping the distance, fighting from maximum range, which allows him to land fight-ending unorthodox kicks and a high volume of punches that often leads to his opponent's demise.
Though Holloway also has two wins via submission, those stoppages came after he had already worn his opponents down, hurting them with his impeccable striking. The Hawaiian-born beltholder is a well-rounded mixed martial artist but many people believe there are opportunities in his grappling game that Ortega can exploit.
Underdog, underestimated
Of Ortega, he may rate at the bottom when it comes to striking differential but he can't be counted out on his feet, given his knockout over Clay Guida and his latest victory, another KO over Frankie Edgar, who had never before been finished in his career.
Ortega, 27, seems to excel in close-range combat where he can land his unconventional elbows and uppercuts. He is also a Rener Gracie black belt and is credited with an impressive seven submission victories in his career. Nicknamed "T-City," he has proven to be crafty on the mat and many of his opponents rarely see the sub coming until they are grimacing in pain before tapping.
Holloway's 83-percent takedown defense is daunting but Ortega doesn't necessarily have to take his opponents down to finish his submissions. He has a dynamic submission game, throwing up submission attempts on the feet or out of the clinch. For just one example, consider his flying guillotine finish of Cub Swanson last year.
3 keys to victory
Heading into the weekend, Ortega is as much as a +189 underdog going into this bout. But this is MMA and anything can happen. There are three keys to Ortega pulling off the upset:
Maintain a dirty boxing range: this will allow Ortega to land his high-guard elbows and power
shots.
Close the distance during Holloway's barrage of punches: doing so, allows Ortega to initiate the clinch, setting up takedowns or even a standing submission attempt. This is key because Holloway is unbeatable if he is able to fight at a comfortable distance (he is one of the best at calculating range and taking advantage of it).
Maintain composure: Ortega is notorious for late-round finishes. He has been in several fights
where he is down on the scorecards but finds a finish to maintain his undefeated record. Holloway will provide a new challenge for him because the defending champion is known for increasing the output as the fight wears on, and is especially accurate with his punches in the later rounds. Consider that this is Ortega's first five-round fight so he will need to stay calm and collected to ensure he doesn't miss any opportunities.
When the dust settles on Saturday night, either the "Blessed Era" will still be upon us or perhaps "T-City" will have started his own championship reign in Toronto.
We will soon find out—this is not a fight you'll want to miss.