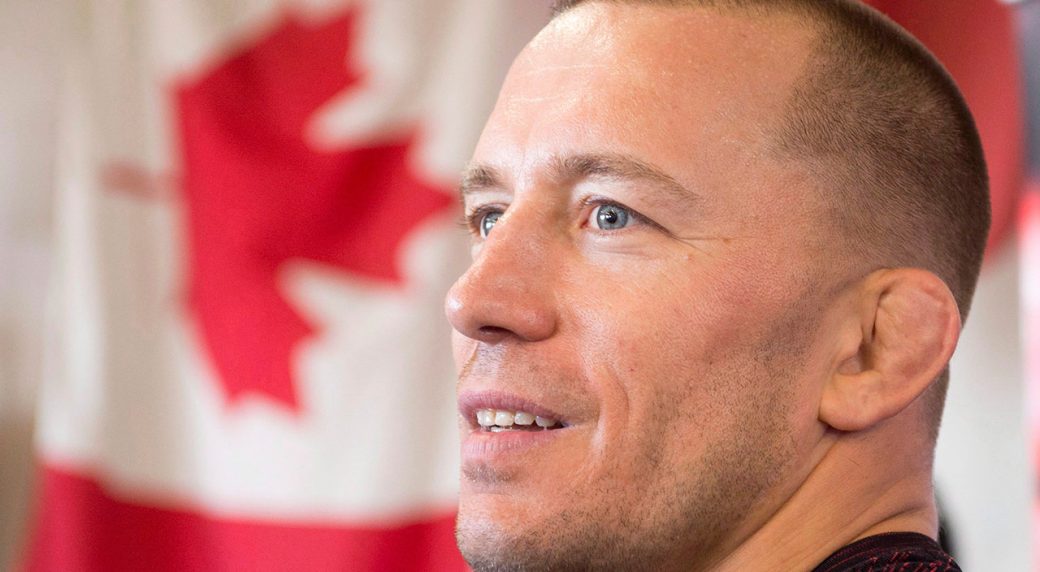 Max Holloway leads the UFC back into Toronto on Dec. 8 at UFC 231, putting his featherweight belt on the line against the undefeated Brian Ortega.
Holloway was also at the top the bill the last time the UFC paid a visit to the Canada's most-populated city. At UFC 206, two years ago, he earned the title over Anthony Pettis in the promotion's fifth trip to Toronto and 26th event overall in Canada.
The country has taken to MMA since it was founded. MMAFighting.com called Canada "one of the UFC's strongest PPV markets dating back to the mid-90s," a decade before the UFC staged its first show there in 2008 for UFC 83, headlined by none other than Georges St. Pierre.
St. Pierre went on to front UFC 129 at the Rogers Centre in Toronto, Ontario, marking the UFC's first stadium show, setting attendance and gate records in the process.
This weekend's pay-per-view will have trouble matching those numbers but the action in store could put it alongside or above all five Toronto cards presented by the UFC.
Here's how all of them stack up to each other:
5. UFC 152: Jones vs. Belfort
Date: Sept. 22, 2012
The UFC's first trip to Toronto was so profitable that Dana White and Co. have had no problem sending Jon Jones back three times. UFC 152 marked Jones' second main event in Toronto but it came and went not without drama.
Originally set to fight Dan Henderson at UFC 151, Jones rejected a short-notice title defense against Chael Sonnen when "Hendo" dropped out. UFC brass killed the entire show and moved everybody to the end of the month, calling in Vitor Belfort to challenge Jones.
There was hardly anticipation to see Jones against an undersized opponent. Belfort would come close to submitting Jones in the opening round but was smashed to bits for the remainder of the fight before tapping to an Americana in Round 4.
The co-main event closed out the inaugural flyweight tournament where Demetrious Johnson escaped with a split-decision over Joseph Benavidez. But the action involved (save for Round 4) didn't live up to exciting reputation of the legendary little-weight pairing. Helping make up the main card were future middleweight champion Michael Bisping (boxing the ears off Brian Stann); Matt Hammil (pounding Roger Hollet to an inconsequential victory); and Cub Swanson (who made Charles Oliveira wilt from punches).
TJ Grant and Evan Duhnam really smacked each other around on the preliminaries (awarded Fight of the Night for doing so). But none of it made up for the underwhelming crescendo of the main card.
4. UFC 206: Holloway vs. Pettis
Date: Dec. 10, 2016
It was an injury to Daniel Cormier weeks out from UFC 206 that put Max Holloway in position to not only headline the card but also fight for the interim featherweight title.
Holloway would stop former champion Anthony Pettis inside of three rounds. The belt was never going to belong to Pettis anyway because the night before he became the second fighter in UFC history to miss weight for a championship bout.
Holloway's effort still capped off a thrilling night of fights. A tear-up between Cub Swanson and Doo Ho Choi clearly highlighted the action. ESPN named their three-round war Fight of the Year.
Before that, Donald Cerrone and Matt Brown put on a banger of their own. And Kelvin Gastelum (TKO3 over Tim Kennedy) and Emil Web Meeker (UD over Jordan Mein) also turned in dominant performances, making up for the lack of a giant name like Cormier's.
(Tidbit: John Makdessu appeared on the prelims (losing by wheel kick KO to Lando Vannata). He was actually scheduled to compete this week at UFC 231, before pulling out, which would've made Makdessi a part of four of the five featured Toronto cards.)
3. UFC 165: Jones vs. Gustafsson
Date: Sept. 21, 2013
At UFC 165, Jones finally found himself a worthy challenger. He took on Alexander Gustafsson for the light heavyweight crown. The title tilt was one of two championships on the card.
Jones and Gustafsson battled for every second of the five-round affair. Gustafsson proved himself the No. 2 fighter in the division, consistently hitting Jones and avoiding a number of takedowns. The judges rightfully awarded Jones the decision to one of the best fights in light heavyweight history.
Interim bantamweight champion Renan Barao, at the peak of his game, would not see the final scorecards. With Dominick Cruz on the shelf, Barao defended the title over Eddie Wineland with a beauty of a spinning-back kick.
Brendan Schaub used a d'arce choke to leave Matt Mitrione unconscious and subsequent lightweight champion Khabib Nurmagomedov tossed around a giant lightweight in Pat Healy.
All told, the show went on without a hitch. And the prelims were fun: Mitch Gagnon and Dustin Kimura didn't waste anybody's time, putting themselves both in danger in a four-minute scrap; Stephen Thompson began showing wrinkles to his game; and of course John Makdessi was there—doing this to Renne Forte.
2. UFC 140: Jones vs. Machida
Date: Dec. 10, 2011
Nearly half-a-million homes bought UFC 140 to see Jones put the final touches on one of the greatest single years in MMA history, amassing a 4-0 record, including two title defenses, in 2011 alone.
He took a round to adjust to Lyoto Machida's springboard attack but eventually moved in on the Karate stylist. And up close, Jones applied a standing guillotine that left Machida slack on the floor.
The card featured a number of body contortions. Frank Mir almost ripped Antonio Noguiera's arm off—viewer discretion advised. "Big Nog's" little brother Rogerio had some more luck, pelting Tito Ortiz's midsection, piercing him with a standing knee before planting countless punches into the former champion's ribs.
There was some lightning in the first fight of the main card as Chan Sung Jung kicked off the show with a seven-second knockout of Mark Hominick. The KO was the fastest finish in UFC history.
There were altogether five stoppages on the undercard, including Costas Philippou abusing Jarred Hammon's "rubber chin" and John Makdessi… losing to Dennis Hallman.
The UFC's trademark formula for building a fight card worked perfectly.
1. UFC 129: St. Pierre vs. Shields
Date: April 30, 2011
UFC 129 set attendance (55,724) and gate ($12.1 million) records at the time—shattering hallmarks set by UFC 66 and UFC 124—and would remain the promotional milestone until UFC 200 and UFC 229.
In the main event, welterweight champion Georges St. Pierre decisioned Jake Shields, who established himself as a pound-for-pound talent outside of the UFC, fighting across Strikeforce, EliteXC, and a stacked Rumble on the Rock tournament. A nasty eye injury impaired St. Pierre's vision in the final two rounds where Shields became the first man in years to take even a round from GSP.
Jose Also defended his title too, outboxing Mark Hominick (remember that hematoma?), and established his featherweight reign in the UFC not long after the company absorbed the WEC. With the merger, UFC 129 also featured Benson Henderson's debut (outmuscling the hometown Mark Bocek).
Legendary duel-champion Randy Couture added even more drawing power to the show but didn't stand a chance in the cage against Lyoto Machida, who picked up Knockout of the Night with a crane kick.
The prelims on Spike TV were memorable in their own right: Rory MacDonald suplex'd Nate Diaz enough times to make anybody watching dizzy from motion sickness and Jake Ellenberger hit Sean Pierson so hard that he started sleepwalking.
Most importantly, the second fight of the night was when the legend of John Makdessi was born. Fighting Kyle Watson, Makdessi faked a roundhouse kick before uncorking a spinning back fist that can be watched over and over right here.
In all, the card featured big names and big-time violence. Pushing the envelope by absorbing the WEC and showcasing the early prelims on Facebook, the UFC's iron fist over mixed martial arts became tighter than ever before.