ESPN+
Previewing UFC 235: TV Schedule, Latest Odds and Analysis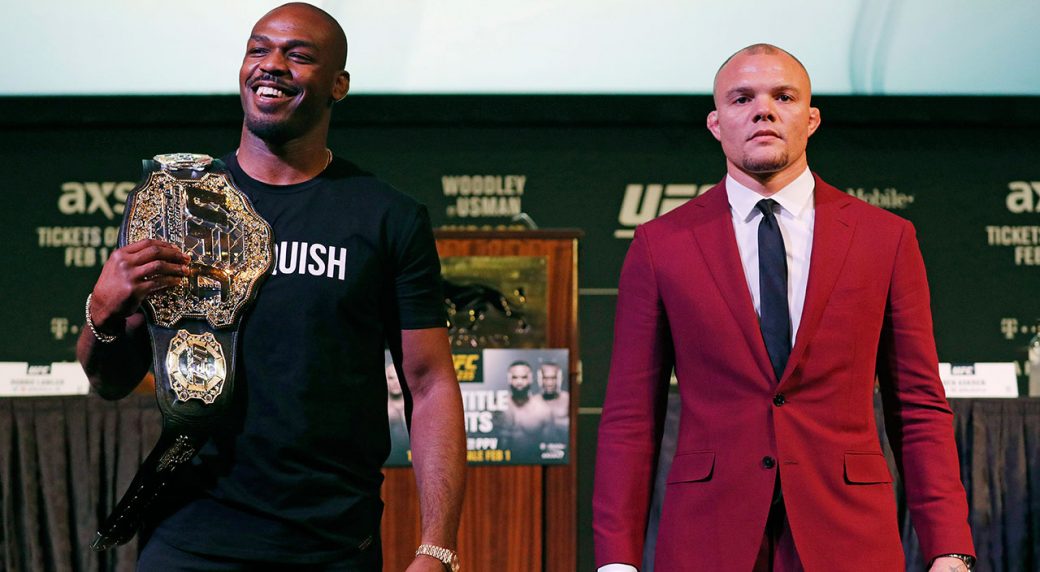 The UFC 235 fight card is absolutely stacked with champions and former champions. The storylines surrounding these matchups are just as compelling. The card is set to kick off on Saturday March 2nd, at the T-Mobile Arena in Las Vegas.
Tyron Woodley and Kamaru Usman will be taking each other on in the co-main event. To be quite frank it's a fight that could headline a pay per view in itself. Former Bantamweight champion Cody Garbrandt returns to action looking to move past his back to back defeats at the hands of T.J. Dillashaw. He'll be taking on Pedro Munhoz who'll be looking for a signature win. In the main event we have the controversial but supremely gifted Jon Jones taking on Anthony Smith who is looking to end his reign. The much talked about Ben Askren takes on former champion Robbie Lawler in what is possibly the most intriguing fight on the entire card.
Clean the drool off of your faces ladies and gentlemen, we have a card to preview.
Pay-per-view main Card: 10:00pm ET / 7:00pm PT
ESPN Prelims: 8:00pm ET / 5:00pm PT
JON JONES (-900) Vs Anthony Smith (+600)
To say the cards are stacked against Anthony Smith (31-13) would be putting it mildly. Smith however is more then up for the challenge. To categorize the roll he has been on as impressive is an understatement. Smith has won three fights in a row. Six of his past seven and fourteen of his past sixteen. He hasn't been facing tomato cans either. Hector Lombard, Rashad Evans, Mauricio Rua and Volkan Oezemir have all fallen victim to Smith. Not only has he beaten them but he has stopped every single one of those men. Those names are amongst some of the very best to ever step foot in the octagon.
Jon Jones (23-1) however is considered by many to be the very best. Smith has a monumental task ahead of him. The odds of anyone beating Jones are bleak at best but Smith however will give the champion everything he's got.
TYRON WOODLEY (-150) VS KAMARU USMAN (+130)
Kamaru Usman (14-1) is ready to be crowned champion. At least that is what he believes. It's for good reason. He has only lost one bout which was his second pro fight. Since then he has gone on to win 13 straight fights. He isn't just simply winning these fights, he is dominating them. Usman is great no matter where the contest takes place. His ability to fight on the feet is impressive. He also has a long and decorated background in wrestling as well.
Usman is no doubt a worthy challenger for the champion Tyron Woodley (19-3-1) but will he have enough to dethrone him is another story entirely. Usman may hold a longer streak but the champion Woodley has one that is much more impressive. Woodley absolutely dismantled Darren Till to the tune of a second round knockout in his previous contest. He also cruised to a unanimous decision victory over Demian Maia among others. Woodley has taken on the toughest challenges that the division has to offer and has come out on top. Usman however could prove to be his toughest yet.
CODY GARBRANDT (-145) VS PEDRO MUNHOZ (+125)
Just two short years ago Cody Garbrandt (11-2) was on top of the world. In 2016 he had a banner year. He destroyed the previously undefeated Thomas Almeida and followed that up by winning a clear decision against former champion Dominick Cruz. All signs pointed to Garbrandt's title reign becoming a long one. T.J. Dillashaw on the other hand had other ideas. Dillashaw knocked out Garbrandt not once but twice in their two matchups.
Now he begins the long road back to the top when he takes on Pedro Munhoz (17-3) who at 32 years of age is still searching for that signature victory. Not only would a win over Garbrandt provide him with just that but it would also put him on a short list of true contenders in the Bantamweight division.
BEN ASKREN (-275) VS ROBBIE LAWLER (+235)
The world of mixed martial arts was turned on its head when former pound for pound king Demetrius Johnson was traded for the undefeated and highly touted Ben Askren (18-0) to ONE Championship. It was a move that had never been done before. We all knew what ONE was receiving in Johnson but what exactly were the UFC getting back in Askren? He is spoken highly of, glowingly even. He could be the best kept secret out there. Well the secret is about to be out.
Is he as good as they say? Former champion Robbie Lawler (28-12) will be the first to find out. In a card filled with unbelievable fights this one right here holds the most intrigue.