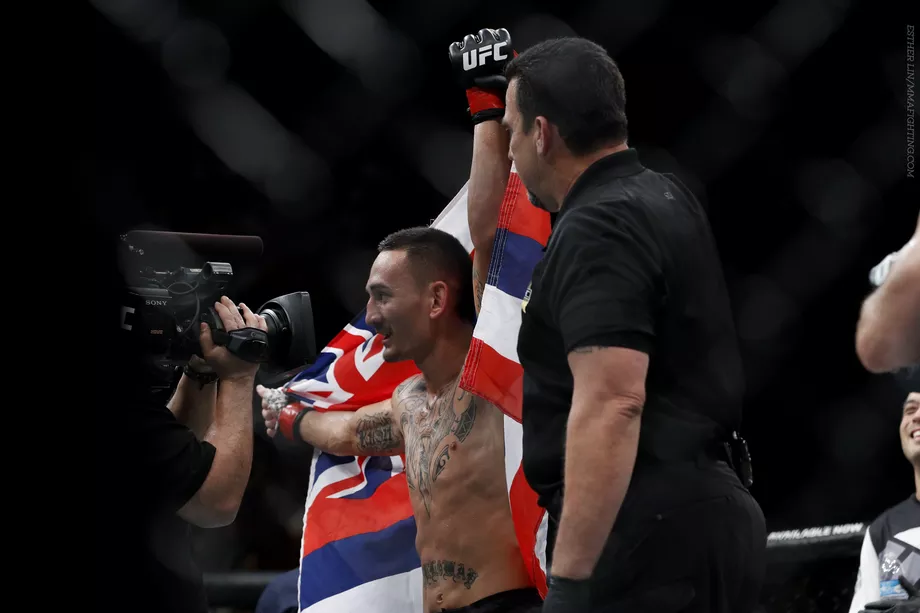 Max Holloway hears the hype train charging toward him in the form of Brian Ortega. With steam at his back, his challenger is roaring down the track, both hard and fast.
But Holloway is unconcerned.
"He's good," Holloway said, via MMAFighting.com. "He's a dangerous man, but everybody keeps talking about Brian and this and that."
There's good reason to talk about the 27-year-old Ortega. He's a bonafide star and currently undefeated at 14-0 with 1 no contest. That pristine record hasn't come against taxi drivers either. Ortega has defeated top-tier contenders. Scratch that—he hasn't just beaten them, he's destroyed them.
Consider his bout against Cub Swanson last year. Before Swanson's bout with Ortega he was riding a four-fight winning streak. It seemed as though Swanson was banging on the door of a title shot. That was true until he met Ortega and was subsequently submitted in just two rounds.
How about the immensely talented Frankie Edgar? After lifting the lightweight belt, Edgar has been a contender for years at 145 pounds. The former champion only fell to some of the best that have ever stepped inside of the Octagon: most notably, Jose Aldo and Benson Henderson. Even his losses to those men were extremely close and all went to the judges' decision.
In short, back then if you weren't a legend then there's no way you're beating Edgar. Until of course Ortega starched Frankie inside of the first round.
All would seem to foreshadow Ortega dominating the Featherweight landscape and having a lengthy reign at the top. That were if not for what's been called the "Blessed Era."
"Everything the guy did, I did better," Holloway continued. "He's on what, a six-fight win streak? I got 12. He beat a champion? I beat two—and I beat one of them twice. So at the end of the day, the 'Blessed' Express is going around in a circle. We're lapping you, bro. And I'm younger than you, so congratulations."
Holloway is right. He has beaten more champions than Ortega. He also has a win streak that spans twice as long. During that 12-fight win streak, he's dispatched the likes of Jose Aldo (twice) Jeremy Stephens, Charles Oliveira and Cub Swanson.
Ortega is good—he might even be great. But Holloway is on the way to becoming the greatest Featherweight ever.
On Saturday, he will remind us why.