International
'He's strange, but this guy can fight': Nate Landwehr on Track to Defend M-1 Featherweight Title
More than meets the eye, Nate Landwehr defends featherweight title on Dec. 15.
M-1 Global color commentator Ian Freeman quickly grew fond of the promotion's featherweight champion Nate "The Train" Landwehr (11-2), who defends his title on Dec. 15 at M-1 Challenge 100: Battle in Atyraeu, Kazakhstan.
In the cage following Landwehr's three-round melee with Viktor Kolesnik last year, Freeman told the American, "Not many people get you—but I get you." And could only reassure the crowd, "He may be strange, but this guy can fight" after Landwehr had his turn on the mic: "I got the victory because I'm a bad man. And I got a little song that I made"—to which the chorus read: "That's an ass-whoopin'/that's an ass-whoopin'."
It was in fact a split-decision over Kolesnik. But, naturally, it was a come-from-behind verdict for the 30-year-old Landwehr as emblematic of his freewheeling tenure with M-1 Global as can be, now 3-0 under the M-1 banner. He was floored with a high kick in the opening round but thumped Kolesnik around for the final five minutes to secure another win.
He was also behind and on his back two months before that against Mikhai Korobkov. Routinely dragged to floor, Landwehr had one moment of opportunity on his feet in Round 2 and capitalized, drilling a standing knee into Korobkov before firing a left hook that dropped his man, culminating in a second-round TKO.
Landwehr would later say, "As long as I'm still breathing—I'm still in it."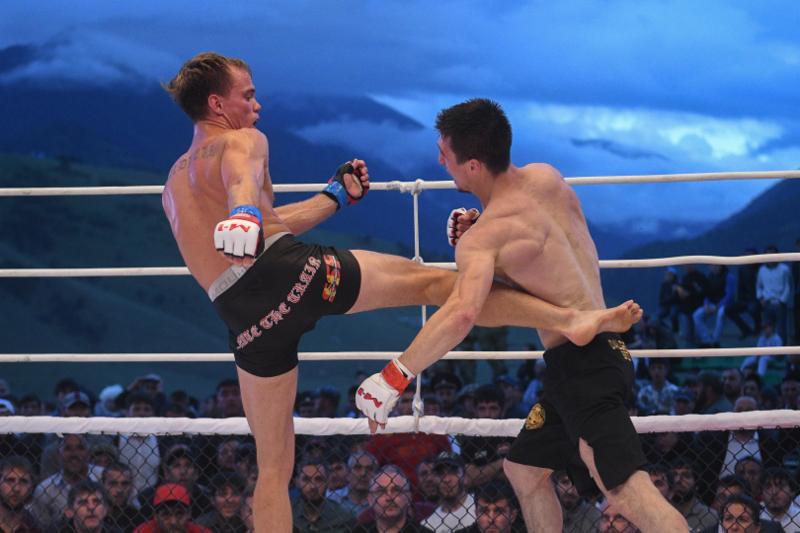 A win over Andrey Lezhnev (18-7) this weekend would make Landwehr one fight away from a chance to compete in the UFC. (A new deal between and M-1 and the UFC stipulates any champion from the Russian promotion can compete between both companies after making two successful title defenses.) Training out of Clarksville, Tennessee, he kicked off a six-fight deal with M-1 in the summer of 2017.
While taking pride in his cardio and penchant for warfare (in lieu of a jab, throwing an uppercut from his toes), Landwehr has demonstrated his greatest strength when the mic is in his hands and the spotlight on him.
Five months ago, his reputation was still growing ahead of a title-winning effort over Khamzat Dalgiev at Battle in the Mountains 7. With the word "Faith" inscribed on the challenger's stomach, Dalgiev wasn't at all a believer, asserting, "I don't consider him to be a dangerous opponent. I think he is a clown."
Landwehr is an entertainer, to be sure. And his walkout did not disappoint. Clad in a flat-brim hat and sunglasses, he swaggered down the platform leading to the ring, all to the backdrop of yonder mountains and the tune of Robert Tepper's "No Easy Way Out," made famous by Rocky IV. The broadcast aired a promo of Landwehr delivering another timeless soundbite: "Mentally, to win, I prepared to die. Physically, I am prepared to kill."
The American would spend nearly the entirety of the fight on his back. Dalgiev, a master Judoka, planted his challenger on the canvas twice in Round 1. Desperately trying to avoid his fate, Landewehr was warned for grabbing the ropes. Dalgiev would get away with a more egregious foul in the following stanza. But not before, Landwehr, somehow, generated enough power laying flat on his back to rattle Dalgiev with punches.
Back to the mat in the second period, Landwehr twisted and squirmed under a superior grappler for another four minutes. He dug deep, eventually scrambling to his knees—hurling shots the best he could from a transitional position—and, to get his assailant off, applied a modified guillotine.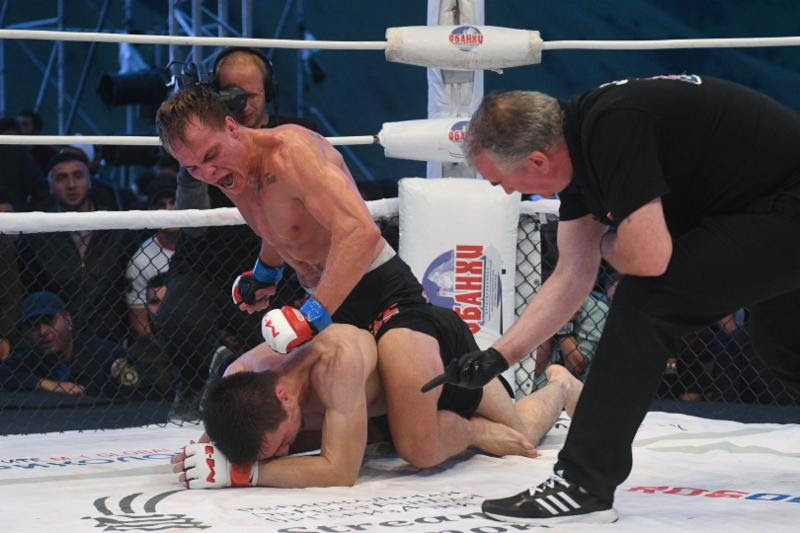 The fighters rolled over and from top-position Landwehr continued to lock in the choke until Dalgiev jammed his fingers into the American's eyes and nose ("he picked my nose for me," Landwehr recalled) to get out of the threatening submission. The filthy strategy worked, forcing Landwehr to release the lock, but it also freed his hands to unload bludgeoning justice, ground-and-pound from full-mount.
The referee stepped in and Landwehr was the new featherweight titleholder. With his short-crop blonde hair (no longer, perhaps more fitting of his style, the shoulder-length braids he fought through the regional scene in), he took the look of some unassuming white boy from the Bible Belt who had just rolled into Mother Russia to upset the champ. But more than meets the eye, Landwehr opens his mouth to reveal a cadence he can't shake—that "blaccent," The New Yorker might describe it.
Yves Edwards recently heard it on the MMA Roasted Podcast and called Landwehr the "Tennessee Mike Perry."
Landwehr explained that everything about himself was bred out of necessity, how Clarksville made him who he is—fighting his way out of problems and never running. It became clear that he is the kind of guy who would do all of this cage-fighting for free, and apparently did in 2014, taking on ACB-veteran Adam Townsend in a winner-take-all match (winning the entire purse by way of split-decision).
Wrapping up, Landwehr plugged his fight on Saturday, in Kazakhstan, as only cocksure as he knows how:
"They're ain't no good movies out, nowhere good to eat, so watch 'The Train' do his thing. The venue has 800 seats, but they ain't gonna need even one."
M-1 Challenge 100 will be broadcast live on Fite.tv at 11 a.m. ET. 
All photos: Fight News Unlimited